Staff and students at Biddenham International School & Sports College are about to move into a new building with six new state-of-the-art classrooms recently completed by Ashe Construction under a £4m contract.
The project, undertaken in partnership with project managers Pick Everard for Bedford Borough Council, has been handed over on time and within budget, in preparation for the new academic year.
The works also included an extension to the dining area and a variety of improvements to provide the best possible facilities and make the school more comfortable for students, with the aim of enhancing their education and future success.
David Bailey, head teacher at the school said: "Ashe were amazingly considerate and very accommodating. Not just in terms of communications but around how the new school facilities looked. They undertook work beyond the contract and were really flexible. For example, they used some of the excess topsoil from one area of the school and moved it to another area and seeded it to improve the school grounds. They also took out existing tarmac replacing it with new, and extended a path, to make improvements beyond our expectations.
"They were exceptionally accommodating and any problem solving was brilliant. They were great at sitting down and talking through any changes collaboratively. The site was operational with 1300 pupils, and they ensured they weren't intrusive in any way, always organising timings and deliveries around the school day. They couldn't have been more considerate. On a personal level I will miss the superb site team, they were always thinking about the job and how it would look."
"Thanks to this development our students have some fabulous new classrooms, dining area and science labs to enhance their school experience and future success. We would like to thank the local authority for supporting us to offer more school places to our local community and Ashe for producing such excellent facilities and being so accommodating."
The development of the school will enable the school to increase admission numbers to 240 per year to provide for the growing local community and the school's popularity.
At the handover celebrations, Chris Morris Acting Chief Education officer at Bedford Borough Council said: "I'm delighted that this remarkable project, funded by Bedford Borough Council was not only delivered on time but also stayed within budget, thanks to the incredible efforts of the team at Ashe Group . Their dedication and seamless collaboration with the school have truly made this achievement possible.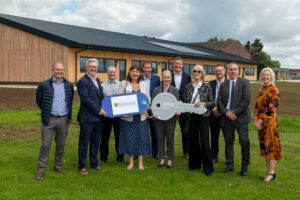 "Our school expansion programme has been a source of immense pride for all of us, and this latest addition reinforces our commitment to providing an exceptional educational environment for our students in Bedford Borough. The state-of-the-art facilities will undoubtedly enhance the learning experiences and opportunities for all those at Biddenham International School and College. A big thank you to everyone involved in this project and the ongoing development of our schools. Let's cherish this moment and embrace the exciting times ahead!"
The new facilities will provide flexible accommodation for demonstration, experimentation and presentation for several departments in the school and aid practical learning for subjects such as science, DT, graphics, media, photography, and food & nutrition. It will extend the teaching facilities for students wanting to enter into careers in architecture, design, engineering and the creative industries and will improve teaching in the arts.
Sean Conneely, project management director at Pick Everard said: "We at Pick Everard are very proud to have delivered this outstanding addition to the school. Working closely with Bedford Borough Council, the School headteacher, David Bailey, and Ashe Construction, we have provided the facilities needed to serve this and the next generation of Bedford's children."
Ashe's business development director, Andrew Morris, said: "We are delighted to have completed these fantastic new educational facilities for Biddenham International School and Sports College. Construction works were undertaken at a number of different locations around a live school environment, but working as a collaborative team with all project partners, the new buildings were delivered with minimal disruption to the school day-to-day operations, and to the highest safety levels. It's been a real pleasure working within such a supportive team environment and we wish all users many happy years of use in their new facilities."
Ashe Construction is a specialist in delivering education projects and has recently undertaken decarbonation works in nearby Bedford Sixth Form College.