According to government statistics over three million people work in the tech industries in the UK, and with record levels of employment, the IT skills gap shows no sign of abating. For tech companies, finding the right people with the skills needed to help them meet their innovation targets has become hugely important and providing specialist training facilities for the IT workers of the future has never been so high on the agenda.
Addressing the problem is Milton Keyes College which has just opened the doors to its newly enhanced South Central Institute of Technology (SCIoT) built by Ashe Construction.
The £12m design & build scheme has been funded by the Department for Education and provides much needed space to increase numbers on the technology courses offered by the college.  Located just a short distance from Bletchley Park, the home of the World War II code breakers, the project has seen an extensive refurbishment of Andrew Peck building, which was built in 2005, and an extension to enable more students to be trained in all aspects of IT. Developments in artificial intelligence, augmented and virtual reality have made specialists in these areas in high demand and the new facilities are designed to encourage students' learning through inclusive architecture and design with access to state-of-the-art digital equipment.
Commenting on the new building at the opening ceremony, Milton Keynes South MP, Ian Stewart said:
"It is amazing. It's going to be such an asset for Milton Keynes to have this place to inspire and train the codemakers of the future. It's such a fresh, innovative, inclusive place – an ideal seat of learning for students of all ages and backgrounds and it's going to become an iconic building in the city's future."
The new steel framed extension has four storeys and is connected to the existing three storey building to create lots more learning space. A feature of the building is an atrium with skylights to flood the lower floors with natural light. There's a lecture theatre on the ground floor along with six new learning spaces. There are nine new learning spaces on the first floor, seven on the second and four on the fourth, giving plenty of room to allow for the growth in student numbers. A café and break out areas have also been included along with an additional lift to make the building more accessible.
Supported by major brands
Milton Keynes College Group has partnered with a number of global brands such as Microsoft and KPMG, both of which had representatives at the launch.  One of the local partners is CCL Evidence Talks, founded by Elizabeth Sheldon, she said the new building is stunning, and the perfect location for digital students to learn:
"It's a really modern, clean environment. It's really peaceful but there are places where you can have a buzzing conversation with your fellow students. It's just inspiring."
She said the SCIoT has so much to offer to students looking for a career and encouraged businesses to get in touch with the Institute:
"We are working with employers to create the skills you need in your workforce. If you are short of those skills you need to come to talk to us because we can help you.  These students will become your future workforce. You know what you need. You're completely up-to-date, and that means our curriculum is up to date too, because you tell us what you need students to learn."
Social Value
Ashe has made the project an exemplar for adding social value during construction by looking at all aspects of the works to find ways of creating benefits to the local community. Ashe's waste consultant Encore Environment identified through its ProjectDIVERT scheme 1.2 tonnes of materials that were surplus to requirements which were sent off to be reused elsewhere. For example, 10 doors which would have been sent to landfill were diverted for reuse for the New Meaning Foundation, a charity that builds sustainable homes for people who have experienced homelessness. 100% of the reusable waste at the SCIoT was diverted from landfill and traditional disposal.
The partnership between Encore and the college has been such a success that Encore's managing director Rachel Rowley has tasked students undertaking the HNC/HND courses at the Institute with creating a live software app for ProjectDIVERT.
Lauren Wandless Ashe's social value co-ordinator said:
"The SCIoT project presented many opportunities to really make a difference to people beyond the college's campus. We got involved with careers fairs and gave talks to students as well as enabling students to use the scheme as the subject of their own studies by holding design competitions, and providing over 700 hours of work placement for four Construction T level students.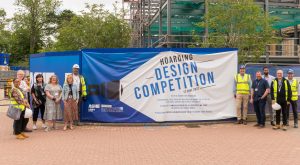 "As part of our commitment to health & safety we funded on-site health checks for 18 of our subcontractors. We also made a £10,000 donation to the Big Family Charity to provide Christmas hampers for Milton Keynes College students, and their families, in financial difficulty."
During construction Ashe played a part in addressing the skills gap in the construction industry as Ian Robbins, managing director, explains:
"In addition to the many social value initiatives surrounding the project, we are aware of our responsibility to highlight the opportunities for careers in the construction industry. We always encourage local sub-contractors to sign up trainees and apprentices. Ten trainees learnt new trades and Ashe took on a full-time apprentice on this contract who is now following the route of a trainee site supervisor."
Other social value initiatives instigated by Ashe included funding 12 Construction Skills Certification Scheme cards for second year construction T level students and Ashe also organised a hoarding design competition with prizes given for a sustainability and careers in construction designs, all aimed at engaging students at the college and getting them involved in the project.
MK College is a regular client of Ashe and it is hoped the new training facilities will enable the college to help drive growth in the area by delivering courses relevant to employers.