Councillor Zoe Nolan, Cabinet Member for Children and Families at Milton Keynes Council got more than she bargained for at Ashe's MK East site this week when she was asked to do the spade work and help to cut the first sod using an excavator at the groundbreaking ceremony!
It was a double celebration marking the start of Milton Keyne's largest development since 2007 and Ashe's largest project to date. The sun shone down as representatives from Milton Keynes Council, the project team and all of the consultants gathered to acknowledge this exciting moment.
Ashe was awarded the £24m design and build contract in July and will build a new primary school and community health hub, on the A509, just off junction 14 of the M1 in readiness for the construction of 5,000 new homes being built in the area.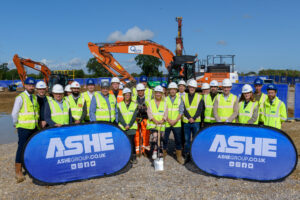 The school, which is valued at around £14.5m, will provide 39 nursery places and 630 primary places. The 3400sq m school will have 21 classrooms and two halls and will be built with a steel frame, brickwork and cladding. It will form the first part of an all-through school with plans for a future secondary school located approximately 250m across the road. Sports provision, which will also be open for community use, will include two youth grass football pitches and a tarmac multi use games area.
The community health hub is valued at around £9.5m, and will provide a range of primary care, community health and other community-based services. The 1900sq m building will have a community hall, offices, meeting rooms and children's centre. Both projects will have drop-off and car-parking facilities.
Cllr Nolan said: "In Milton Keynes we make sure new communities have the right infrastructure in place early on, so facilities can keep pace with development. We know that quality community services are what residents want. That's why buildings like this are so important – they help to create a thriving community where people want to live, work, and spend time."
Ian Robbins, Ashe Construction's managing director said: "It's such a pleasure to see this major project start on site following all the preparatory work. We're looking forward to seeing the buildings progress and the community benefiting from the new facilities."
Ashe has managed the complete design and build contract and has developed the scheme from feasibility over an 18-month period. The project has been procured under the Pagabo major works framework and is being funded by the government's Housing Infrastructure Fund which is also providing funding for the construction of a new 32m wide bridge across the M1 and associated highways infrastructure to serve the development.
Those celebrating with Ashe were representatives from the Council, Pagabo, GSS Architecture, planning consultant Smith Jenkins, Quinn Groundworks, M&E designers One Creative Environments, BCAL Consulting responsible for the structural and civil engineering works, and developer Berkeley Homes.