A celebration took place at Sandy Secondary School to mark a milestone in the progress of works to build their new teaching and sports facilities.
A ceremonial tightening of the final bolt on the steel frame of the classroom block was carried out in front of members of the Ashe Project team, dignitaries from Central Bedfordshire Council, building design consultants Concertus, pupils and executive principal at the school, Karen Hayward.
The £13m project procured through the Pagabo framework will last for a year and provide 29 classrooms and a food tech area in a new two-storey teaching block. A special educational needs and disabilities (SEND) department will be constructed and include three new classrooms, breakout rooms, offices, and a kitchen, all to accommodate the growing number of children in the area.
A floodlit 3G all-weather sports pitch and additional parking will be provided and the original school, which is now 48 years old, will be remodeled and upgraded to modernise the facilities.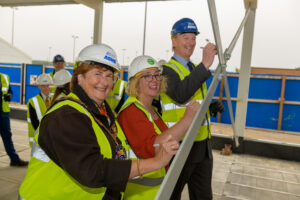 Central Bedfordshire Council executive member for families, education and children, Cllr Hayley Whitaker, said: "This is an exciting stage in the process, as pupils can now see the size and shape of their new classrooms. With work on the new SEND block forging ahead it won't be long until young people can enjoy learning in a brand-new environment and to continue to make the most of their education."
Ashe chief executive Robin Blake said: "It's always a pleasure to get to this point in any of our projects, where we see the progression from planning and preparation, to creating the framework which will soon transform into wonderful new learning spaces for children in the area."
Work is expected to be complete next winter, giving the school capacity for 1440 pupils.