In January 2023, Ashe set out on an ambitious carbon reduction journey to fight climate change whilst supporting clients with their own carbon reduction goals.
As part of the company's journey, Ashe is working on a growing number of projects where the aim is to create buildings with such low environmental impacts, that they are designed to be net zero in operation. One such project is The Valley School in Stevenage which has been designed by Saunders Boston Architects.
The £15.8m school is for pupils with special educational needs and disabilities (SEND) and is taking shape within the grounds of the existing Valley School.
Construction & Technical Director, Dan Armes, takes us on a deep dive into The Valley and explains why Ashe is eager to work on more projects that have sustainability built into them.
"The World Green Building Council is leading the transition of the construction industry to a net zero carbon built environment through its Advancing Net Zero campaign. The aim is for all buildings to be net zero carbon by 2050 and to be net zero in operation and reduce embodied carbon by 40% by 2030.
"There are many other initiatives such as RIBA's 2030 Climate Challenge, and the Low Energy Transformation Initiative (LETI) Climate Emergency Design Guide which all set out ways in which we, the construction industry, can contribute to the reduction of greenhouse gas emissions.
"First things first, it's important to understand the two things being measured when we talk about making a zero carbon building. Embodied carbon, this is the actual amount of carbon that is created by constructing the building and includes the amount of CO2 generated when producing the raw materials, the transportation and installation of everything that goes into the fabric of the building. Carbon in operation is the amount of carbon produced when the building is up and running, the amount of 'exhaust' carbon dioxide created through all activities in the building.
"The Net Zero Carbon Philosophy can be summarised through four clearly defined actions: Be lean, be clean, be green and be seen – (use graphic)
"For schools, the LETI benchmarks set out values for building fabric efficiency (air tightness, thermal performance (U-values), thermal bridging and G-value of glass), power efficiency including lighting and system efficiency including MVHR, heat pumps and AHUs. It also considers the balance of daylight and overheating, external shading, openable windows and overall energy consumption.
"To help evaluate the Valley School building, a complex 3D thermal model was created which considered the building fabric performance – the walls, windows, doors, roof and floor. It then modelled plant loads and efficiencies for heating, ventilation, and lighting. After this, the use of low or zero carbon technologies such as use of renewable energy was considered and then following completion of the building, the modelling looks at how the building will be used– it looks at the way the occupiers will control the systems within the building to gain optimum efficiency.
"One of the rather sobering aspects of the modelling is that it takes into account the current weather conditions but also considers the weather predictions for 2050 and 2080 due to climate change which is why it's so important that we all act now to limit our greenhouse gas emissions.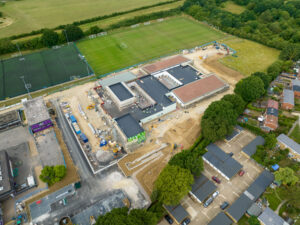 Be Lean (Fabric First approach)
"At the Valley School, building products which provide maximum insulation such as warm roof cassettes over the central part of the building and insulated green roofs over the classroom pods will help to regulate internal temperatures all year round. For the external walls, structurally insulated panels are being used and the doors and windows will be aluminum double glazed thermally broken units. The floor has been constructed with insulation and screed over a beam and block floor.
Be Clean
"Building services and supplies must be as efficient as possible to enable a building to be net zero in operation, so this building will be powered by electricity alone and the supply will be via a "green tariff" where 100% of the electricity is generated through renewable sources such as wind, solar and hydroelectric. There are no fossils fuels used within the building because this a mandatory net zero carbon requirement.
"Another really important point is to encourage building users to travel to the site in an environmentally-efficient way so 14 electric vehicle charging points with infrastructure for an further 14 points are being included in the car park.
"All of the lighting at the school is provided by highly efficient LEDs and lights will be connected to sensors to provide daylight dimming and absence detection so no power is wasted. Air source heat pumps will provide low temperature hot water for the heating system with a Coefficient of Performance (CoP) of up to 320%. This is achieved by the heating output generated being more than 3x the electrical energy used to run the plant.
"For ventilation, mechanical heat recovery systems will be providing fresh air that is both heated by the LTHW coils from the heat pumps and also tempered by heat recovery where the incoming cold air is warmed via a plate heat exchanger by the warm stale exhaust air.
"The building design also considers the people who will be using the building. Fans can make a lot of noise which can be problematic for those with special needs so oversized fans that make less noise and comply with acoustic levels required for SEN facilities will be installed.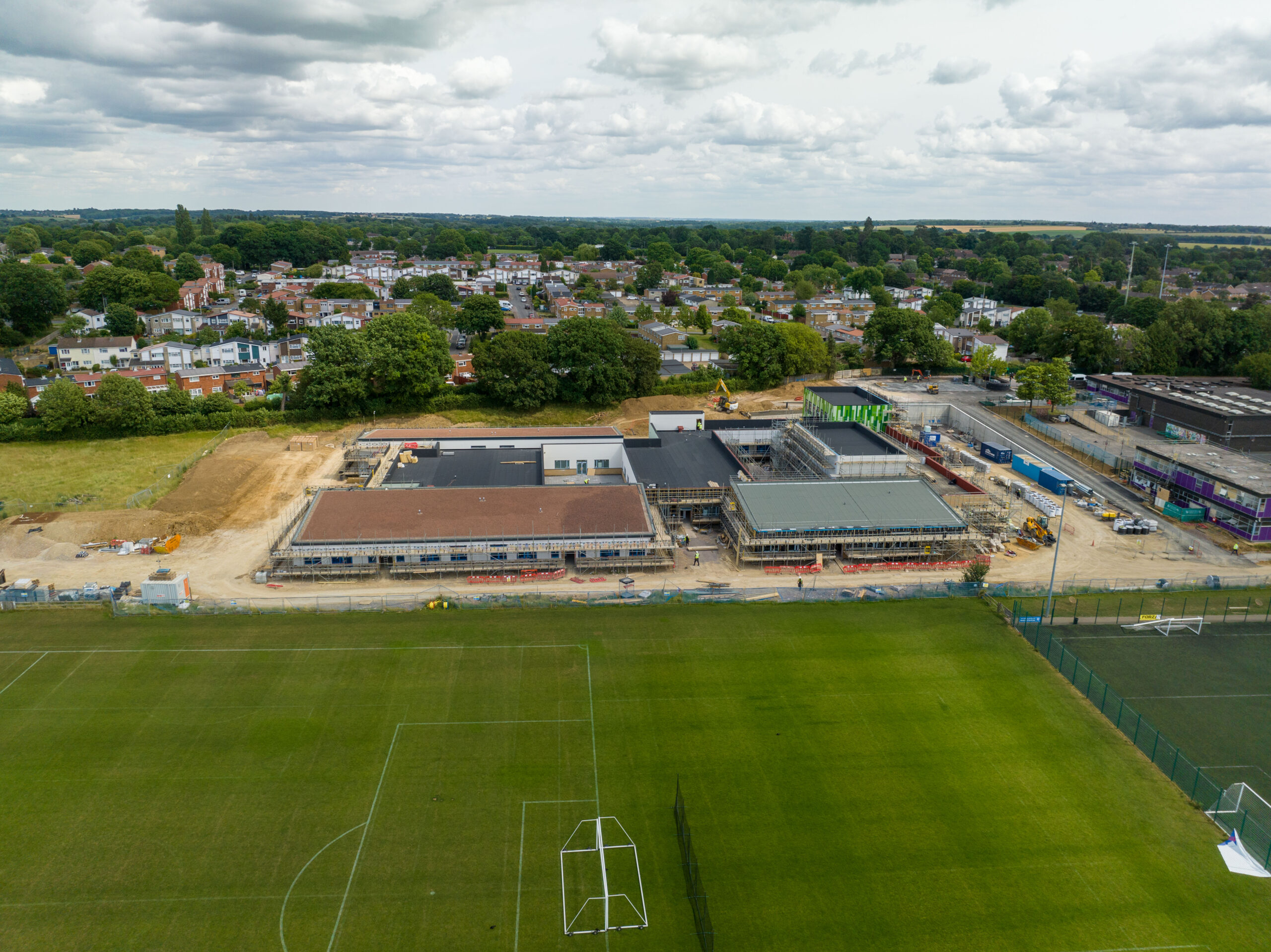 Be Green
"The total annual estimated energy use for the building is 197MWh so to aid renewable targets, the 202 photovoltaic panels on the roof will create 80.86MWh of electricity. Computer simulations show that 15.64 tons of carbon dioxide emissions are saved which is equivalent to the planting of 718 trees.
Be Seen 
"The heating and ventilation systems are fully automated and link to local thermostats and CO2 sensors so should not need any manual adjustment. All areas are controlled locally as independent systems but are linked back to a centralised building management system for monitoring.
"Ventilation is fully mechanical throughout all areas except for the sports hall where natural cross ventilation between louvres and actuated windows are utilised. In all other areas the windows can be opened as a personal preference but are not needed for climate control or fresh air and all hot water uses point of use heaters, on demand, so there's no energy being wasted to store heated water.
"All of these elements form an incredibly efficient building which limits waste whilst creating a comfortable building to work and learn in.
"Local biodiversity has also been carefully included in the plan and will be enhanced through the installation of bat and bird boxes, bug hotels and green roofs on classroom pods and a sunken location in the shallow valley means that the building will blend into its natural surroundings.
"Every aspect of the project embraces ways to limit the impact on the environment. Local labour is being used where possible to limit transport emissions, and careful recycling of excess materials through Encore, Ashe's waste management consultants ensures anything that can be reused is directed to the appropriately and doesn't go to landfil.  We are even donating excess timber from the project to pupils at the school for them to work on their own woodwork projects."
"In fact, if you factor in the replacing of the original inefficient 1960s building at The Valley, the project as a whole can be considered as carbon negative.
"We want all our projects to be forward thinking and take on all available carbon reducing measures to help us as a business, working in partnership with our clients, to tackle the climate crisis."